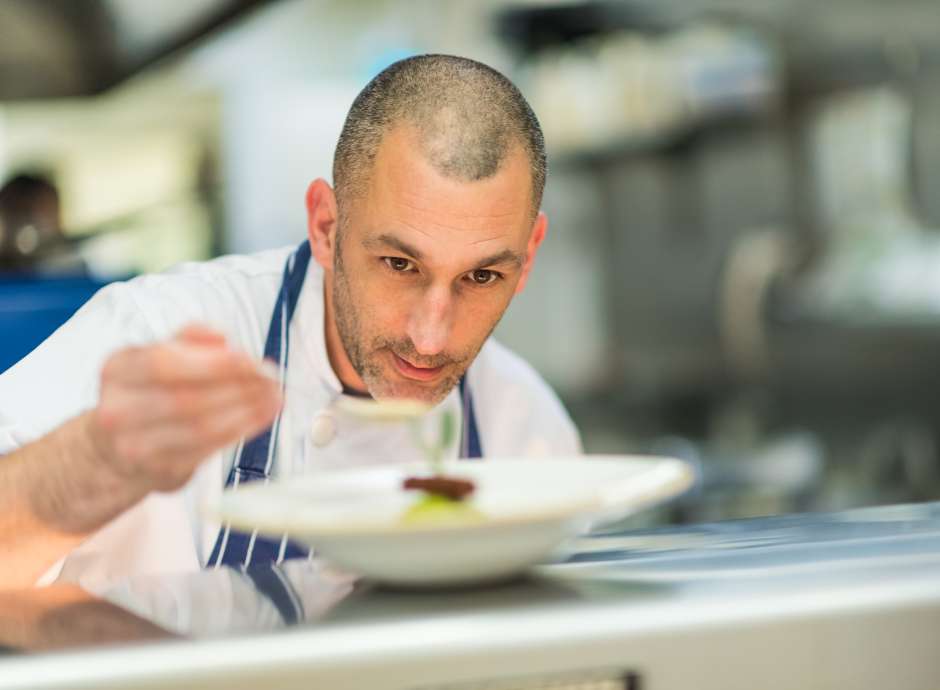 Head Chef 

John Mijatovic
Our Head Chef John Mijatovic and his team work hard to create a menu that excites our customers all year round. Awarded with two AA rosettes, his ethos is to make the best use of local ingredients and present beautifully cooked dishes for everyone to enjoy.
After almost a decade of service, Chef Mijatovic has taken the Restaurant from strength to strength flying the flag for fine dining in Falmouth. Since training at Hunstrete House near Bristol, he perfected his skills at the likes of the Priory Hotel, Charlton House and Fowey Hall before joining the team at The Royal Duchy. 
Scroll
Chef Interview
Have you always been passionate about becoming a chef?
I have always loved food, creativity and cooking, so yes! Being a chef is hard work but it's very rewarding - I'm not sure what I'd do if I wasn't a chef. 
Do you incorporate local produce in your dishes?
Where possible, yes absolutely. We are blessed in Cornwall with an abundance of local produce, so using this cleverly and respectfully is absolutely the right thing to do.
Where do you get your menu inspiration?
As the saying goes, 'the first bite is with the eye', so it's often from something I've seen or read. I'm a very creative person so I love designing the dishes on the menus - especially creating the Christmas cakes. They usually take up to 3 weeks work which includes the designs (usually with some sort of Falmouth Bay snow scene with sleighs and a Father Christmas). 
What is your favourite season for ingredients?
It has to be Autumn. With it being game season there's a huge variety of different game meats available such as partridge, mallard, teal and venison which I think captures the essence of Autumn perfectly. And although many people can be quite unconvinced about game, it is extremely versatile, healthy, and a great alternative to other meats such as beef and chicken.
In your opinion, what is the MUST TRY dish during a trip to Cornwall?
Where do you start?! Our crab ravioli is always popular, produced with fresh local crab caught in Falmouth Bay - the kitchen brigade go out foraging for fresh rock samphire from the castle beach to make the ravioli. 
Tell us in a few words, why people should come and visit The Royal Duchy Hotel and what culinary delights await!
Variety, integrity, flavour, ingenuity and honesty. Our culinary delights cover many food styles for as many different occasions throughout the day and the year, usually combining classic British cuisine with Mediterranean and Asian flavours.