Suhaili 50th Anniversary of Winning The Golden Globe
Sir Robin Knox-Johnston's departure to become the first man to sail solo non-stop around the globe back in 1968/9.
Sir Robin set out from Falmouth on 14 June 1968 and was the sole finisher in the Sunday Times Golden Globe race. In doing so, he became the first man to sail solo non-stop around the globe – a feat that remains one of the most significant sailing achievements during the past century. In this salute to solo sailing. Last year Suhaili was joined by other classic globe-girdling yachts, including Sir Francis Chichester's Gipsy Moth IV and Sir Alec Rose's Lively Lady, together with the entire fleet of 2018 Golden Globe Race yachts.
Last year saw a 3-day commemorative event, organised by the Falmouth Town Team and the Royal Cornwall Yacht Club where Sir Robin first stepped ashore on his return back in 1969.
On Easter Monday, April 22, it will be the 50th anniversary of the moment when Sir Robin Knox-Johnston, Patron of the CA, crossed the line as the winner and sole finisher in the original Golden Globe race. To commemorate the end of his first solo circumnavigation, Sir Robin will be sailing Suhaili from Gosport to Falmouth and is aiming to cross the original finishing line at 3.25pm, exactly as he did in 1969.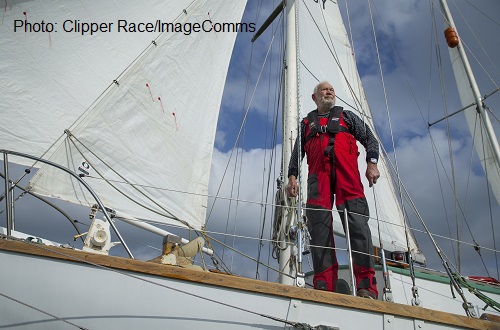 To celebrate this, there will be three events throughout the day...
Morning: In conversation with Sir Robin Knox-Johnston and Mike Golding OBE Join us at the National Maritime Museum Cornwall (NMMC) in Falmouth at 9.30am for an opportunity to hear RK-J giving first-hand accounts of his epic voyage to one of the world's most accomplished offshore sailors, Mike Golding.
Booking: CA members wishing to book tickets should go to [the Clipper Ventures booking system] (this is a Clipper Ventures event and not on our CA Eventbrite calendar).
The NMMC is staging an exhibition from April 8 throughout the summer, exhibiting items and photographs from Sir Robin's personal collection as well as a commemorative documentary that is currently in production.
Lunchtime: While Sir Robin is making final on-water preparations to re-enact his epic race finish, the CA will again be offering lunchtime hospitality from 12.30 at the Chain Locker with a buffet for CA and Little Ship Club members. An indication of numbers would be useful so please [let us know] if you want to attend.
Afternoon: At 3.25pm Sir Robin aboard Suhaili, accompanied by Lively Lady, will cross the finishing line at Falmouth with a supporting flotilla of yachts. He may do a small parade of sail around the harbour before setting out so that you can watch him from the shore.
Evening: a big party will be hosted by the Royal Cornwall Yacht Club. Tickets are limited but we have an allocation and they can be purchased through the CA website.
Booking: CA members wishing to book tickets should go to [Book events online]
Cost: £30 plus booking fee
Little Ship Club members should use the code previously supplied.
Do consider joining this unique occasion afloat or ashore. For more information, contact Lucy Gray via email: generalmanager@theca.org.uk